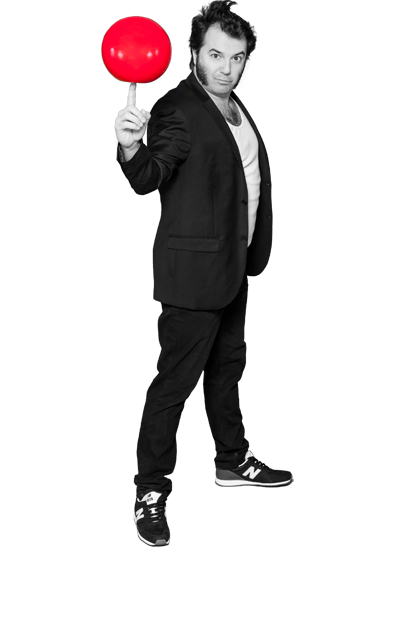 ANDY GIROUX
Originally from Abitibi-Témiscamingue, Quebec, Andy Giroux has been bringing life to the streets of the world for more than 15 years, with his high energy, unique shows that resonate with audiences across the globe.

A highly skilled acrobat, he has mastered the arts of handstands, floor acrobatics, and Cyr wheel.
Having been trained at the National Circus School in Moscow and graduating from the Cirkus Piloterna school in Stockholm in 2005, Andy has since performed more than 600 shows in 20 different countries as one half of the comedy duo The LoL Brothers. With this show Andy performed in some of the most prestigious festivals of street theater in the world which include, among others, Six Pumps Beach (Switzerland), Dub Fest (Dubai), Halifax Busker Festival (Canada) and the Just For Laughs Comedy Festival (Canada), to name but a few. While working as part of The LoL Brothers Andy received people's choice awards at festivals in Canada, Switzerland, and Germany.

He joined the multidisciplinary circus company Les Parfaits Inconnus in 2007 and since has performed in a number of tours with this company in Canada, Mexico and at Disney World and is currently working with them on their next creation.